---
Details
We take feedback from the AFTCO Pro Team seriously. AFTCO collaborated directly with Jason Christie to produce a performance sun protection shirt that would help his comfort and effectiveness when dealing with long hours of sun exposure on the water. Meet the Jason Christie signature sun protection hoodie by AFTCO. Jason's direct feedback was instrumental to fine tune our already popular Samurai hooded performance shirt. Jason took additional measures to modify the hood of his Samurai shirts to improve the sun protection coverage on his face and prevent glare. The AFTCO product development team worked alongside Christie to adapt his unique modifications and produce a performance sun protection shirt with an increased hood size, neck closure system and an integrated hat visor sleeve. These specific features requested by Jason improves the surface area of sun protection on your face, neck, and ears while reducing overall glare from the sun's reflection on the water.
FEATURES
Jason Christie Signature Sun Hoodie
100% Matte Polyester
Bigger hood with closure and hat visor sleeve
Thumbloops on sleeve
Antimicrobial treatment for odor control
AFBLOCK UPF 50 sun protection
AFGUARD stain release
Model is wearing size L. Height 6 ft. Weight 200 lbs.
Active fit - Modern true to size fit See Fit Details
---
UPF 50 blocks 98% of the sun's harmful UV rays.
---
Stain release protection shields against accidents.
---
Keeps you feeling fresh.
---
Customer Reviews
Write a Review
Ask a Question
07/10/2020
Steven R.
United States
Jason Christie Hooded LS
I Love the Shirt and Plan to buy more. I have Skin Cancer issues. The Hood Design allows me to wear a Hat and comfortably cover my face and prevent UV Rays from coming into contact with my skin.
07/10/2020
JOSHUA W.
United States
To long
The shirt is to long, would be super comfortable
07/10/2020
Mark W.
United States
Needs some improvement
Customer service was great. First shirt had a hole. They replaced it. They don't offer white or anything lighter then grey. Not sure why, because who wants to wear darker colors in the bright sun. I got grey, it's comfortable but since I needed a 2XL the hood is huge. It feels kind of heavy and if it's not breezy/windy outside, you'll burn up in it. I would need lighter colors and some kind of adjustment to the hood to give it a 4 or 5 star rating. I really wanted to love it but I don't.
07/10/2020
Rob S.
United States
Nice!!
I like it!!!!!!!!!!!
07/08/2020
mike b.
United States
Love the shirt
Very nice shirt
07/08/2020
Zeb S.
United States
Great shirt!!
Great product and for those of us that wear a ball cap it works as designed.
07/07/2020
Jason M.
United States
Poor craftsmanship...
I returned the shirt once for a crooked seam on the built-in gaiter. Shirt number two was no different. After years of buying Huk products, I expected the same quality from a competitor. I guess the made in China tag says it all...
07/07/2020
Linnzi S.
United States
New hooded LS shirt!
Had the chance to wear one of these new shirts out yesterday, Texas in July! This thing did not disappoint! The shirt is made of high quality materials, water and sweat wicking was awesome, the hood design is fantastic, it never blew off my head while driving the boat. The material was nice and cool, never felt overheated as I have with other comparable shirts in this heat. The zipper on the neck is great, really good coverage and sun blockage. 10 hours in the sun, no sunburn. That's hard to beat and at a great price! I will definitely be back for more. 3 isn't enough. I'd like to get these shirts on all the high school anglers out there, a really good gateway to the proper sun blockage and skin protection.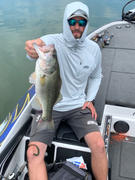 07/02/2020
George w.
United States
Got mine today
Was impressed right off by the timely delivery tried it on and love the feel. Great to have a pocket on it. Definitely will recommend this to everyone George wooden
07/01/2020
Gilda M.
United States
Great shirt
This item met all of my expectations .
Out of Stock - Email me when available