---
Details
Meet Anhydrous 2.0, the most recent advancement in weatherproof outerwear by AFTCO. The innovative Anhydrous outerwear system is constructed with the latest in hyper technical fabrics and features to produce an absolutely waterproof/breathable jacket to endure all that mother nature has to throw at you.
WATERPROOF
STORM SHELTER.
Instantly breathable + completely waterproof = 100% awesome. eVent® introduced the world's first air permeable waterproof membrane. And they did such a good job that it's still the standard for breathable waterproof technology. eVent® DVexpedition™ 3-layer laminate is perfect for staying dry and comfortable on the water.
SUPERFABRIC®
ARMOR TECHNOLOGY.
SuperFabric® is constructed with armor plates that are bonded to the fibers of the base fabric, providing a flexible barrier against abrasion, scuffs and scrapes while acting as a tough, protective layer against harsh elements.
THE CORD LOCK,
REDEFINED.
Cohæsive™ simplifies cord management to its most intuitive form. This technology hides the traditional hardware used to tighten your hood or hem, letting you make fit adjustments on the fly. With no bulky toggles to break off, the system is incredibly easy to use even with gloves on.
WATER REPELLENT
ZIPPER.
Providing substantial protection from the elements, the YKK VISLON® water resistant zipper features a polyurethane laminated tape combined with VISLON® technology; plastic molded teeth to reduce weight and afford smooth and hassle-free operation.
FEATURES
3 Layer eVent DVexpedition™ 100% Nylon Fabric
30K waterproofing / 10K breathability
Water repellent YKK VISLON® bridgetop pocket zippers
Water repellent YKK VISLON® main zipper
Fully taped seams
Cohæsive™ cord lock system at hem & hood
Articulated sleeves, internal waist cinching
Double dry cuff
Fuller cut for layering
Model is wearing size L. Height 6 ft. Weight 200 lbs.
Outerwear Washing & Care VIEW CARE INSTRUCTIONS
Classic Fit - Built For Comfort See Fit Details
---
Weatherproof fabric keeps you perfectly dry.
---
Customer Reviews
Write a Review
Ask a Question
10/14/2020
Jonathan H.
United States
My experience
This jacket is really nice. Fits well and is the nicest rain jacket I've ever seen. I have wore it on cold mornings and it was a great windbreaker on the boat ride. I have also wore it in the heat of the day with no problems of overheating. Alot of thought went into this jacket and the bibs. They are expensive but worth the money.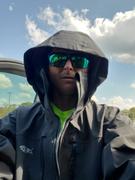 06/06/2020
Nick K.
United States
one Amazing Jacket
Fit is out standing in all ways. A litter jacket that works like a heavy one.
Look no further
I had a garage full of several different rain suits. After this one arrived I have them all away. Perfect fit no binding and not a single drop of water even at high speeds with out the hood blowing down. Cuffs are great when you wear a base layer and allow for adjustable fit. If you are looking for extreme gear for hard core protection this suit does it all.
05/05/2020
Chio P.
United States
Best fishing jacket!
I love the Anhydrous 2.0 jacket. It keeps me warm and dried during those miserable weather. By far the BEST fishing jacket out there. Also, AFTCO staffs are very helpful and knowledgeable. Thank you for the great customer service experience.
02/20/2020
Wayne D.
United States
11/02/2019
Branden
United States
Anhydrous bibs and jacket
This suit works. It's great for rain, and wind. It's super comfortable and great for **** weather. It may seem expensive, but it's well worth the money. If you're unsure, Tactical Bassin did a video on it on YouTube. Go watch that. What sold me on this suit is a few weeks ago, I went fishing with a friend in 45 degree air temp, in a down pour. He had the anhydrous and I had another brand. Mine eventually failed and his kept him warm and dry all day long. I immediately went online and purchased it. I've gotten to take it out and it is awesome in foul weather. You will NOT regret this purchase. Good luck.
Anhydrous
Best rain suit on the market, the sizing is a little different, I normally where a large, but in the anhydrous I would where a medium. Awesome product though, definitely the best rain suit.
Coming up on a year
Coming up on a year and the Anyhydrous jacket/bibs have far surpassed my expectation. Tough and durable with many next level features only found on "next level" foul weather gear. I've put these Items through **** so far kayak fishing in both fresh and salt water. The best feature I think of anyhydrous is being able to just toss it in the wash and not worry about it. The claim that it gets better with every wash is totally true. Charles Breon Hobie Fishing Team
Overall the jacket is good.
Overall the jacket is good. However, I have had some issues with the zipper and notice it is becoming corroded and sticks on occasion. I would look to correct that before it becomes an issue for AFTCO. Thank you - Wayne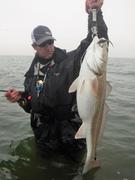 Hello Wayne; Thank you for your comments, we always like to hear from our customers. Please feel free to call customer service if you have any issues with your purchases. 800-452-3726
Anhydrous
The Anhydrous bib and jacket set keeps me warm & dry daily. As a full-time captain paid to be on the water everyday, I wouldn't choose any other brand or style of slickers and a jacket to keep me from getting wet or cold. The comfort is unmatched and for someone in their late 20's, the style of this set makes me stand out in the best way. Every single person I take fishing asks me exactly what this set is and where they can find it for purchase. AFTCO set the industry bar high with Anhyrdrous and I've yet to find anything else that comes close.
Out of Stock - Email me when available