---
Details
Introducing AFTCO Overboard shorts featuring an integrated waterproof / submersible roll-top pocket. Built to keep your valuables safe whether you are in or on the water, AFTCO's Overboard fishing shorts with waterproof pockets were developed to push the boundaries of technical fishing clothing innovation. Overboard is packed to the gills with features like AFLITE ultralight fabric, AFLEX 4-way stretch, AFGUARD stain resistance, Cordura® lined pliers pocket, 21" outseam, 10" inseam and an active fit. The waterproof pouch makes Overboard the perfect stash shorts for your smartphone anytime you're out on the water.
FEATURES
88% Nylon / 12% Spandex
Integrated roll-top waterproof pocket
Waterproof Pocket includes a 4" Opening with a 8" Height
AFLITE ultralight fabric
AFLEX 4-way stretch
AFGUARD stain resistant
Outseam 21", Inseam 10"
Active fit - Modern true to size fit See Fit Details
---
A fantastic 4-way stretch with exceptional memory.
---
Ultralight fabric offers less restriction & more comfort.
---
Stain resistant protection shields against accidents.
---
IPX8 waterproof pocket.
---
CORDURA© lined tough and durable.
---
Customer Reviews
Write a Review
Ask a Question
09/02/2020
paul c.
United States
great shorts!
I found the fit and the materials to be the quality expected from AFTCO but it was the waterproof cell pocket that attracted my attention from the start. A great idea whose time had come, finally. I was glad my phone slid easily into the pocket and was snug and secure, BUT, retrieving the phone from the pocket was a physical challenge and took a bit of doing. No big deal but I would guess by the time i got it out, i would be having to call someone back...my only other whiny gripe is BLACK? Why black? Not a great warm weather color, at least it wont show the fishguts like a lighter color...
07/15/2020
MICHAEL M.
United States
velcro pocket closure strip
Love the shorts. Wore them offshore in the Keys just last week. Dry incredibly fast. Almost weightless to wear and very comfortable fabric. The only improvement I would make is using the "Knobby"-type closure on the submersible pocket that is similar to Velcro in that it has two opposing strips that "grab/snap" together, but is little plastic knobs that snap together.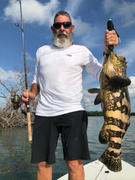 06/18/2020
Ryan H.
United States
What's I've been looking for
I love these shorts. The athletic cut is great, and fit true to size. I would order up a size if you're normal shorts are a little tight. I bought these because when you are a hotel or water park it's perfect to bring your phone cards, cash and maybe keys with you on the lazy rivers. Also for kayak fishing during the hot summer months. Can't believe someone didn't think of this sooner.
06/13/2020
Jonathan A.
United States
first impression
I was very pleased. The item came ahead of expected date and the description of the item is true in actual. I love to shop here now. Thanks AFTCO.
06/11/2020
Valerie P.
United States
Neat idea
This is a really neat idea. The pocket falls short though because the top is so narrow that getting the phone out requires you to take the shorts off. So, once the phone is in the picket it is there to stay
04/01/2020
Mike T.
United States
Coronavirus
Can not wait to use them as they look great. Love the waterproof pocket. However, I had two fishing trips cancelled due to the virus
Out of Stock - Email me when available